Double Gate Airlock Valves
---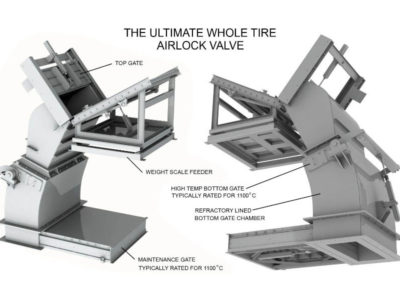 AFS standard airlock valves are designed to introduce whole tire fuel into a combustion chamber that has a slight negative pressure. The airlock valve has two gates which create an airlock as the tires enter the chute and drop onto the feed shelf of the kiln. The most common use of these valves is for whole tires up to 48" in diameter and 17 inches wide.  A high temperature maintenance gate is also provided to isolate the airlock valve during maintenance & shutdown periods.
AFS standard Airlock Valves have the following features to provide years of reliable service with little maintenance:
Knife-style top gate made of mild steel, which rides on V-roller guided tracks
Pivot-type bottom gate made of a high temperature alloy supported with two high temperature graphite pillow block bearings
The standard valve will be designed for a maximum cycle rate of 6 tires per minute.
Refractory lined bottom gate chamber rated for a maximum operating temperature of 2000 F.
Air cylinders to actuate the top and bottom gates.
Both airlock gates will close by gravity in the event of power loss.
Access ports for bottom door inspection and/or replacement
All necessary electrical sensors
A filter and regulator will be provided, along with hoses, fittings, and necessary control components for a complete operating unit.
A high temperature maintenance gate with two manual refractory lined sliding gates in a refractory lined housing.